Episodes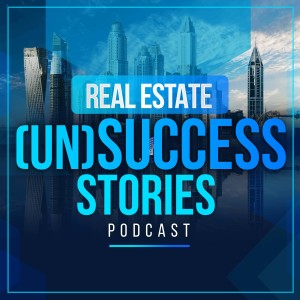 Friday Nov 12, 2021
Friday Nov 12, 2021
Welcome to Real Estate (Un)Success Stories. Join your host Cody Lewis and our guest, Nicole Pendergrass. She shares her one-of-a-kind experience in her first solo deal, which seemed superb at first glance until she discovered heaps of issues. From this misstep, she shares how to move forward and take calculated actions with financial adeptness.
Nicole Pendergrass started her real estate journey with no money, no credit and no connections. She bootstrapped a couple of unsuccessful ventures while building her credit and savings to finally purchase a 3 family house-hack. A few years after, she refi'd her equity and diversified that capital into several wealth building buckets, two of those being joining coaching and mastermind groups. She then closed on her first commercial apartment building as a JV after maximizing connections in her new networks. She currently is Founder and CEO of Noirvest Holdings, a REI firm with the mission to close the gap by bringing 'privileged' investment opportunities to overlooked investors and helping minorities build generational wealth.  She is passionate about marginalized communities having equal opportunity to live financially free. 
Main Takeaways
Debunking the Misconceptions of the Real Estate Realm
Caveat to Going Solo and Moving Too Fast
Connect with Nicole
https://www.instagram.com/nvestornikki/
https://www.instagram.com/officialnoirvest/
https://www.facebook.com/nvestornikki/ 
https://www.linkedin.com/in/nicole-pendergrass/
LEAVE A REVIEW + help someone hear the challenges we went through so they can avoid the same mistake by sharing this episode or listen to our previous episodes.
Check out our website https://www.venduecapital.com/
Connect with Cody on LinkedIn: https://www.linkedin.com/in/jcodylewis/
Don't forget to subscribe and leave a 5-star review!